Australasian Association of Nematologists
Member Society of the IFNS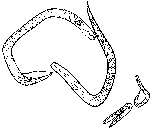 The Australasian Association of Nematologists (AAN) was formed in 1989 in response to the general decline in support for nematology in Australia and New Zealand. It is a special interest group under the auspices of the Australasian Plant Pathology Society.
The objectives of AAN are to advance and disseminate knowledge of nematology and facilitate communication among practitioners.
President & IFNS Councilor
Dr Michael Hodda
Nematode Biosystematics & Ecology
CSIRO Entomology
GPO Box 1700
Canberra ACT 2601
Australia
Tel: 61-2-6246-4371
Fax: 61-2-6246-4000
E-mail: mike.hodda@csiro.au
Events
The Society hosted the 5th International Congress of Nematology, Brisbane, Queensland, Australia from 13 – 18 July 2008.
Convenor: Dr Mike Hodda, President – Australasian Association of Nematologists
To access the Congress Proceedings and Abstracts click here
Publications
Contact: Newsletter Editor, Dr Kerrie Davies, Plant & Food Science,
University of Adelaide, Faculty of Sciences, Waite Campus,
PMB 1, Glen Osmond SA 5064, Australia
Telephone: +61 8 8303 5673
Facsimile: +61 8 8303 4386
E-mail: kerrie.davies@adelaide.edu.au
The society website is at: http://nematologists.org.au and the site is maintained by Ian Riley; E-mail: riley.ian@saugov.sa.gov.au
Subscriptions
The subscription is A$15 per annum. Cheques should be made payable to 'Australasian Association of Nematologists' and posted with a completed application form to the Society Secretary below.
Society Secretary: Dr Sarah Collins, Department of Food & Agriculture Western Australia, 3 Baron-Hay Court, South Perth, Western Australia 6151, Australia. Tel: +61 8 9368 3612; E-mail:sarah.collins@agric.wa.gov.au.
Treasurer: Dr Vivien Vanstone, Department of Food & Agriculture Western Australia, 3 Baron-Hay Court, South Perth, Western Australia 6151, Australia. Tel: +61 8 9368 3141; E-mail:vivien.vanstone@agric.wa.gov.au